Decorating Ideas
Bassett Furniture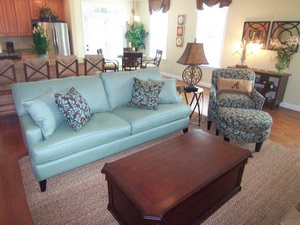 CHANCES ARE IF you're just shopping for a sofa and know what you want, you won't meet Kelly Hill. She's the interior design manager at Bassett Furniture in Mount Pleasant and also boasts the coveted appellation of allied member of the American Society of Interior Designers, which means she is highly educated in the skill and art of creating livable spaces.
"Many people just buy one item and know what they want," says Hill. "I meet them when they need assistance in creating a certain look or feel in a room."
For example, a customer might like a certain sofa but not the fabric or the cushions. That's where the free interior design service comes into play.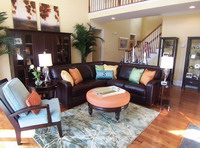 "We can customize sofas and chairs based on a customer's needs," Hill explains. "We follow a three-step process." That process is all about building a relationship and getting to know the design consultant.
During the initial meeting, the consultant works with the client to decide on basic furniture styles and narrow the possibilities. Step two involves a home visit to determine what will work best in the room. That's when Hill becomes involved. She arrives with the consultant, armed with measuring tape, some fabric samples in the selected color palette and perhaps a camera.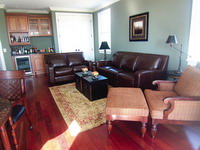 Once all the factors have been taken into consideration, Hill will make what is called a buying presentation, which involves taking a closer look at the floor plan drawn up by the designer, furniture pieces, the fabric possibilities and accessories to pull the room together.
"Once the client has decided on a floor plan that works, we usually revisit the selected furniture in the showroom.
Often, in the final stage, we may upholster the pieces using computer technology," says Hill. The relationship doesn't end there, however.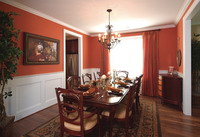 A file kept on each client lists accessories such as rugs, tables or other accent pieces for future purchase. Hill's staff includes four design consultants, with two more to be hired soon.
They stay busy working on homes throughout Mount Pleasant, Isle of Palms and Sullivan's Island. "We do a lot of vacation homes," says Hill. "People just tell us to make it look 'beachy.' That means lots of cool blues and greens."

Art Of Design
WE ALL HAVE ideas about how we want our home to look and feel, but, when it comes to implementing those plans, it's best to seek professional help. This is especially important if you are building or remodeling a home. Bringing in an accredited interior designer from the beginning can save both time and money, according to Tim Schelfe, president of the Carolinas chapter of the American Society of Interior Designers (ASID).
"Too often we get called with the house already framed and the windows going in," says Schelfe, who is based in Raleigh, North Carolina. "Had we been consulted about lights and plumbing fixtures ahead of time, we could have avoided costly mistakes."
This is where the "design" in the phrase "interior designer" really pays off. Interior designers do far more than decorate your home, and their skill and experience can differ greatly from those of most decorators.
While those in both professions can create an entire new look for your room or home, interior designers have education and training in areas where most designers do not.
"Not to take away from interior decorators, but they aren't trained in building materials and practice, codes and lighting," says Schelfe. "A professional interior designer goes way beyond paint colors and wallpaper. You can go to an interior decorator to get a room decorated, but you go to an interior designer to get a room designed. It's more than picking color. It's how a different light bulb in a fixture can change the color in a room."
Linda Dickerson of Linda Dickerson Interiors in Durham, North Carolina, agrees that the distinction between the two professions is important. As an allied member of ASID, she stresses that interior designers and architects work together as a team to make a client's vision for their home a reality.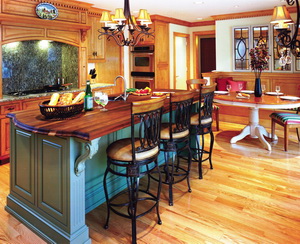 "When you go to design school, you not only learn about colors and furniture but about how to read blueprints, how to design custom cabinetry, how to design ceiling lighting, how many lumens per room and where to put walls and windows," Dickerson explains. "A lot of times architects don't take into account where furniture will be placed and how window treatments will work. Getting a designer involved early helps things work well together."
You can only become a member of ASID if you have earned a four-year degree from an accredited institute of interior design and passed the National Council for Interior Design Qualification (NCIDQ) exam. Those letters following a professional's name carry a mark of distinction.
"Those will distinguish between a designer and a decorator. It reflects education," says Alice Nixon Burress of Citadel Enterprises in Mount Pleasant, South Carolina. "A decorator may not be able to work with lighting layouts or plans, while a designer can work with circulation flow and layouts so the client can understand the project better."
Burress, an architect and an ASID member, points out that ASID is 1,400-strong in North Carolina and South Carolina, with more than 30,000 members nationwide. The largest interior design organization in the world, it stresses education, experience and examination. South Carolina is currently in the process of developing laws requiring professional licensing for interior designers.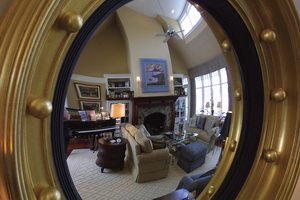 ASID meets annually to discuss such issues as well as to look at current trends in the field. Among the trends affecting the industry is the move toward "green" or energy efficient and environmentally friendly designs. "Green design is huge," says Schelfe. "Sustainable materials, materials from recycled products, environmentally friendly materials, biodegradable products. Builders are building homes with green products in mind."
Homes also are being built so that living space is more user-friendly, reflecting a casual, more comfortable lifestyle. The dressy, formal rooms people use just once a year or so are playing less of a role in overall designs. "The trends would be toward kitchens as gathering places, as well as home spa type spaces, including workout rooms," says Burress, who adds that retro-looking appliances are making a big comeback.
"Those things become dated fairly quickly, and most designers try to steer their clients away to things that will last longer," she warns. Like many interior designers, Burress says she gets most of her clients through word of mouth. Those who are looking to build or remodel their home and are not sure where to start when picking an interior designer can visit ASID's online referral service at www.ASID.org.